Hikes in Bodø & Salten
Bodø & Salten is a paradise for those who love hiking. Here you will find steep mountains with spectacular views of torquise seas and untamed nature, tranquill walks along chalk-white beaches, and urban peaks where you can enjoy the midnight sun or northern lights.

Scroll to see pur hiking suggestions.
Things to consider when going on a hike in Northern Norway
It is important to familiarize yourself with the type of hike you are embarking on. The length of the hike and the terrain can vary greatly – some trails are easy and follow paths and beaches, while others are steep and rugged, requiring better physical fitness and hiking experience. Remember that the weather can change quickly here in Northern Norway, so always carry a backpack with warm clothing and be prepared. It's also wise to have food, drinks, a phone, first aid kit, map, and compass with you. Always check the weather forecast and avoid challenging hikes and the steepest peaks on foggy or rainy days.
Favorite viewpoints
These hikes will provide you with some of the most stunning views in Salten, guaranteeing a memorable experience. However, many of them are challenging, so remember to choose your hiking destinations based on the weather, your physical fitness, and hiking experience.
Beaches
If you're looking for a leisurely stroll, the beaches in Salten are fantastic hiking destinations. Most of them have nearby parking, and you can walk along the water's edge with sand between your toes.
Easy and accessible hikes
Here you will find hikes that are suitable for almost everyone, regardless of hiking experience, age, or physical ability. These hiking destinations are adapted for wheelchairs and strollers, and most of them have well-equipped picnic areas.
Hikes in Salten
Are you looking for hiking destinations in a specific location? Here you will find an overview of hiking destinations in the municipalities of Salten.
Kathrine Sørgård, 1001 Rom
Hikes in Bodø
Hikes in Steigen
Hikes in Hamarøy
Hikes in Sørfold
Hikes in Saltdal
Hikes in Beiarn
Hikes in Gildeskål
Hikes in Meløy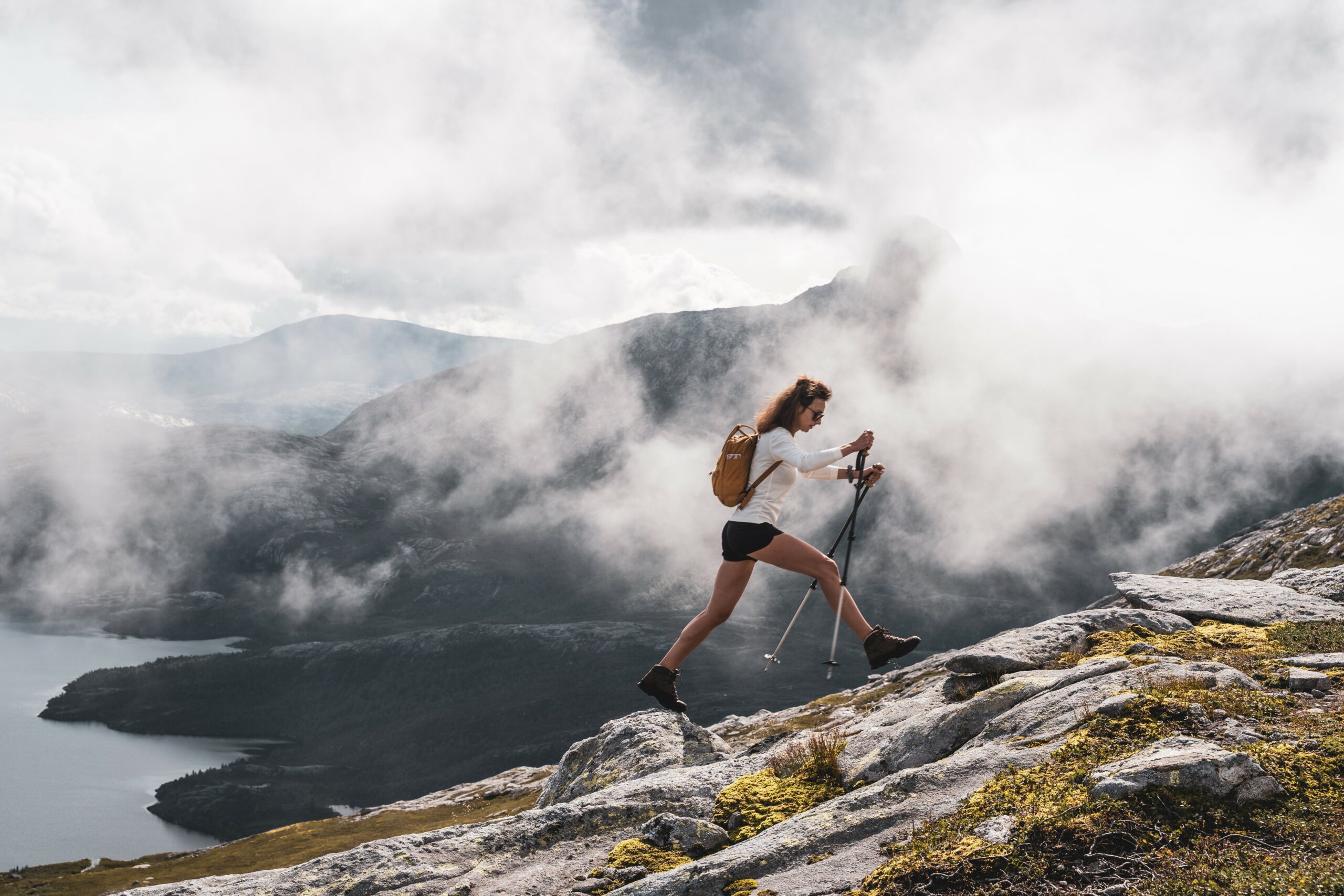 6 tips on how not to leave traces in nature
Norwegian Hiking planners
Weather and forecasts
Frequently Asked Questions
Summer and autumn are the peak seasons for mountain hiking. However, there are many beautiful hikes suitable for spring and winter as well, especially the shorter and accessible ones are enjoyable in any season. Keep in mind that there is often more snow in the inland mountains compared to the coast, especially in the spring. So always check the conditions before embarking on a long hike. Waterfalls can also be extremely powerful during the spring melt, so be cautious in those areas.
It is important to dress appropriately for your hike in Bodø & Salten. Here are some general tips:
Layering: Wear multiple layers of clothing so that you can regulate your body temperature as needed. Start with moisture-wicking base layers, then add insulating mid-layers, and finish with a windproof and waterproof outer layer.
Good footwear: Choose sturdy and comfortable hiking shoes or boots that are suitable for the terrain you'll be walking on. Make sure to break in your shoes before embarking on longer hikes. In winter, make sure to wear crampons if it's icy.
Protective clothing: Bring a durable and waterproof jacket and pants to protect yourself from rain, wind, and cold. Also, remember to wear a hat or beanie to protect your head from the sun or cold, and gloves or mittens to keep your hands warm.
Extra clothing: Pack an extra set of clothes in case you get wet or need to change along the way. It's also a good idea to have an extra pair of socks.
Sun protection: Remember to bring high SPF sunscreen and wear sunglasses to protect yourself from strong sunlight.
Weather-dependent: Always check the weather forecast before your hike and adjust your clothing accordingly. Remember that sunny skies can quickly turn into fog and rain up here in the north, especially in mountainous areas. Always carry extra clothing and be prepared.
You can set up a tent 150 meters away from the nearest inhabited house or cabin (not closer) and stay there for up to 2 nights, as long as you do not disturb the residents' peace.
Camping is not allowed in nature reserves, so check before setting up your tent. Some of the hiking destinations in Salten, such as Brennviksanden in Steigen, are located in nature reserves.
The same rules apply for hanging a hammock as for camping. You must be at least 150 meters away from the nearest inhabited house/cabin and can stay there for up to 2 nights.
In Norway, there is a general ban on campfires from April 15 to September 15. During this period, it is prohibited to light fires and use grills (including disposable grills) in or near forests and other outdoor areas.
Always ensure that it is safe to have a campfire where you are. Be aware of weather and wind conditions and fully extinguish the fire before leaving the area.
Tips for safe campfire burning:
Consider the risk of forest fires and wind conditions.
The person responsible for the fire is always responsible for fire safety.
There should be a responsible, sober adult overseeing the fire.
The fire should be at a safe distance from buildings and vegetation.
The fire should not be larger than you can control and extinguish if needed.
Keep suitable firefighting equipment readily available.
Burning plastic, building materials, and other garbage is prohibited.
Ensure the fire is completely extinguished before leaving the site.
(Kilde: DSB)
The midnight sun shines in Bodø and Salten from early June to mid-July, but the light is just as beautiful in the days before and after, where you can experience both sunset and sunrise with just minutes in between. It's a truly magical experience, especially if you find yourself on one of the region's many mountain peaks.
The northern lights can be seen on dark, clear evenings from September to April. You will have the best visibility if you venture out of the city where there is less light pollution. Even the light from a flashlight or car can be enough to make the northern lights less visible, so remember to turn them off. Often, the magical lights start faintly in the north sky and gradually move higher as the evening progresses.

> Northern Lights forecast
Experienced hikers know that certain items are not only wise but may be necessary to have in their backpacks. Here are our tips:
Food and water (you can refill your water bottle from running streams and rivers)
Extra wool sweater in case you get wet or cold (regardless of the season)
First aid kit
Blister bandages
Cell phone (and power bank)
Map and compass
A chocolate bar – preferably Kvikk Lunsj (a popular Norwegian hiking snack)
A small bag for trash
Toilet paper
You can walk anywhere with your dog as long as you show respect for other hikers and the environment. Avoid letting your dog cause harm to people, animals, property, or things. Keep your dog on a leash in areas where there are other hikers, and always clean up after your dog when it defecates.
In Norway, there is a general leash requirement from April 1st to August 20th. In Bodø municipality, there is an extended leash requirement throughout the year in the following areas:
Residential areas and shopping areas
Parks, cemeteries, schools, kindergartens, and facilities for play, sports, and lighting tracks
River park trail from Bodøgård to Maskinisten
Trail from Maskinisten to Keiservarden
Trail from the Rønvikfjellet parking lot to Keiservarden
Trail from the ski bridge at the trotting track to Junkerfjellet
Coastal path from Bodøsjøen outdoor facility to Bodøsjøen residential area
Main trail in Hunstadlia
River park trail from Bertnes to Breiva
Trails within the Bremnes area
On public roads, sidewalks, and parking lots adjacent to the areas mentioned above
During the period from August 20th to October 20th, there is a leash requirement in areas where other animals graze.
Heggmoen dog training area
The area in Bodø is used for dog training and is open for everyone from May 10th each year, which means you can have your dog off-leash even during the general leash requirement. However, the area is subject to a leash requirement from April 1st to May 10th due to reindeer husbandry. All dogs have access and should be under control.
Was this helpful?
Thank you for your feedback!
Thank you for your feedback!
We are reading all feedback, but unfortunately we can not respond.