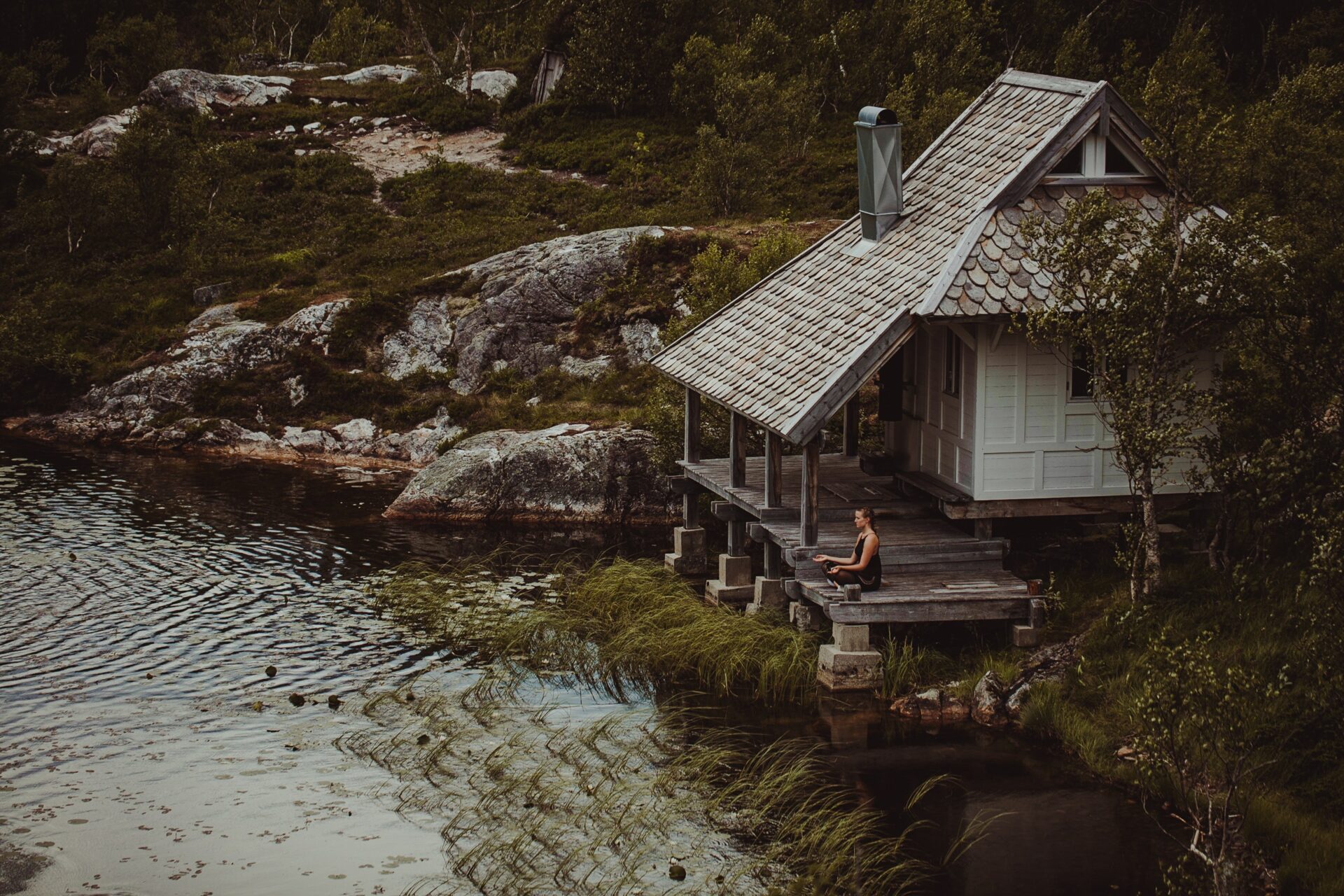 Frida Bringslimark
Gildeskål
Relax, breath and get comfortable in Gildeskål.
Peace and calm for both body and mind.
.
Wild seas, alpine mountains and low shoulders
The nature in Gildeskål is rich and lush and forms the basis of society here.
While staying in Gildeskål you'll notice the creativity and curiosity implemented in the people living in this region.

As a visitor, you can experience our wonderful Láhko National Park, art, world-renowed architecture and our very own fashion brand.
Gildeskål Church site with a medieval church and a 1,000-year history, museum, pilgrimage route and traditional baking such as the Møsbrømlefsa.
Exclusive locally produced skincare products and fantastic nature.
Once here, you will soon share our passion for the region – whether the diverse nature, mystic Northern Lights, or the hospitality of the people and their culture.
Accomondation in Gildeskål
Karoline O. A. Pettersen
Accomondation
Experience unforgettable accomondation in scenic sorroundings in Gildeskål. Here, all options are unique, and you certainly won't go wrong with a night or two here.


Peace, calm and sourroundings that will both inspire and facilitate creativity.

Gildeskål is full of creative enthusiasts who appreciate their beautiful surroundings. The municipality has a lot of fantastic architecture and art.
There's plenty of space to roam around and one can enjoy the silence, calmness, sound of waves, and beautiful beaches.
In Gildeskål, you can take a break from a busy life and live peacefully while enjoying nature. Go on a hike to Sandhornet, stroll along the over 2 km long Langsanden beach, go island hopping to Fleinvær and Arnøyene, experience culture and nature with "The Forgotten City", Gamma, Thai House, and historical Gildeskål church site.
Activites
Find your favorite here
Shop local products
Attraksjoner
Hiking Suggestions
Kontrafei Media
Hiking suggestions
In Gildeskål, you can take a break from a hectic everyday life and live peacefully while enjoying nature. Go on a hiking trip to Sandhornet, take a leisurely stroll along the over 2 km long Langsanden beach, or visit the iconic Finnesjuran on the way up to Finnesfjellet.
Gildeskål is a national park municipality with access to the beautiful Láhko National Park.
Food and drinks
At Arnøy Brygge Restaurant and Bar, you can experience a plentiful seafood feast during summertime. You will be offered a variety of delicacies from the sea surrounding the island. This is a highly sought-after experience, so it's recommended to book a table in advance. In Inndyr, you can try authentic traditional food at Heimsjyen.
How do I get here?
Peppes Pizza
Here's how to get to Gildeskål
A stone's throw away from Bodø, you'll find Gildeskål. Whether you arrive in Bodø by plane or train, Gildeskål is accessible by fast boat or bus. By car or bike, you can find us just south of the mighty Saltstraumen, along the National Tourist Route Helgelandskysten (FV17) or the Coastal Route – known by many names.
If you're traveling through Gildeskål, we strongly recommend taking the road around Sandhornøya. The northern exit can be found at Kjøpstad, while the southern exit is at Skaugvoll. By taking this road, you'll also have the opportunity to discover our archipelago by taking a fast boat from Våg or Inndyr

Speed boat
Route planner: https://www.reisnordland.no/
The local route for the express boat is called Bodø – Gildeskål, route 18-445.
The local stops in Gildeskål are:
Inndyr (The municipal center)
Våg (Sandhornøy)
Mevær og Sørvær (Fleinvær)
Nordfugløy og Sørfugløy (Fugløya)
Sørarnøy (Sørarnøy og Nordarnøy)
It may be beneficial to check the schedule, as some stops are only by request. Book your ticket well in advance of departure, which can be done online..
The regional route for express boat is called Bodø – Sandnessjøen, NEX, route 23-731.
The local stops in Gildeskål include Sør-Arnøy, which corresponds with the local route.
Ferry
Route planner: https://www.reisnordland.no/
The ferry route in Gildeskål is route 18-444 Sund – Horsdal – Sørarnøy.
Ports of call:
Sund: Ferry pier at Inndyr (5km away from Inndyr, the municipal center/town center).
Horsdal: Ferry pier at Sandhornøy (5 km away from Våg). Sandhornøy is connected to the mainland by bridge at Kjøpstad.
Sørarnøy: Ferry pier for Sør-Arnøy, which is connected to Nord-Arnøy by bridge.
Bus
Line 200: Bodø airport– Ørnes – Glomfjord – Halsa
The bus runs along FV17 with some connections to Sandhornøy and Inndyr. Use the trip planner on reisnordland.no to plan your trip.
Bicycle
Bicycle along national cycle route no. 1: The most beautiful bike trip through Gildeskål can be experienced if you take the trip over Sandhornøy. Then you can avoid the tunnels and enjoy the beautiful coastal landscape. If you are heading further south towards Meløy, it is possible to take the trip over Storvikskaret instead of cycling through the Storvikskar tunnel (3.1 km long). The road is partially overgrown on the south side of Storvikskaret, but in return you get an incredible view of Storvika.
In Gildeskål, you can rent a bicycle at Bua Gildeskål. Bicycle rentals can also be found in Bodø.
Car
The easiest way to get around Gildeskål on your own is by car, especially on the mainland and on Sandhornøy.
If you are heading to Sør-Arnøy, be aware that the ferry can be full. One of our most important businesses is located on Sørarnøy – a salmon slaughterhouse – and there are often many trucks that need to be transported on the ferry. If you are going to Sørarnøy or Nordarnøy, it may be wise to consider whether you need to bring your car on the ferry. Fleinvær is wonderfully car-free and can only be reached by fast boat.
Rent a car:
Gildeskål touristinformation
Did you know that…
Ureddplassen is one of the best places along the coast of Nordland to admire both the archipelago and the midnight sun. The rest area offers a magnificent view of the open sea, towards Fugleøya and the Lofoten Wall. Here you will also find an architectural gem that many international media have referred to as the world's most beautiful public toilet. Ureddplassen is part of the National Tourist Route Helgeland Coast.
Elias Blix is one of our greatest hymn writers, and has left a deep mark on Norwegian Christian life and society in general. He is known as a spokesperson, politician and theologian, but most of all for his hymns.
Elias Blix was born and raised on Sandhornøy in Gildeskål, and here you can follow in his footsteps on the Blix trail and visit the Elias Blix café.
Explore more destinations in Salten
Was this helpful?
Thank you for your feedback!
Thank you for your feedback!
We are reading all feedback, but unfortunately we can not respond.