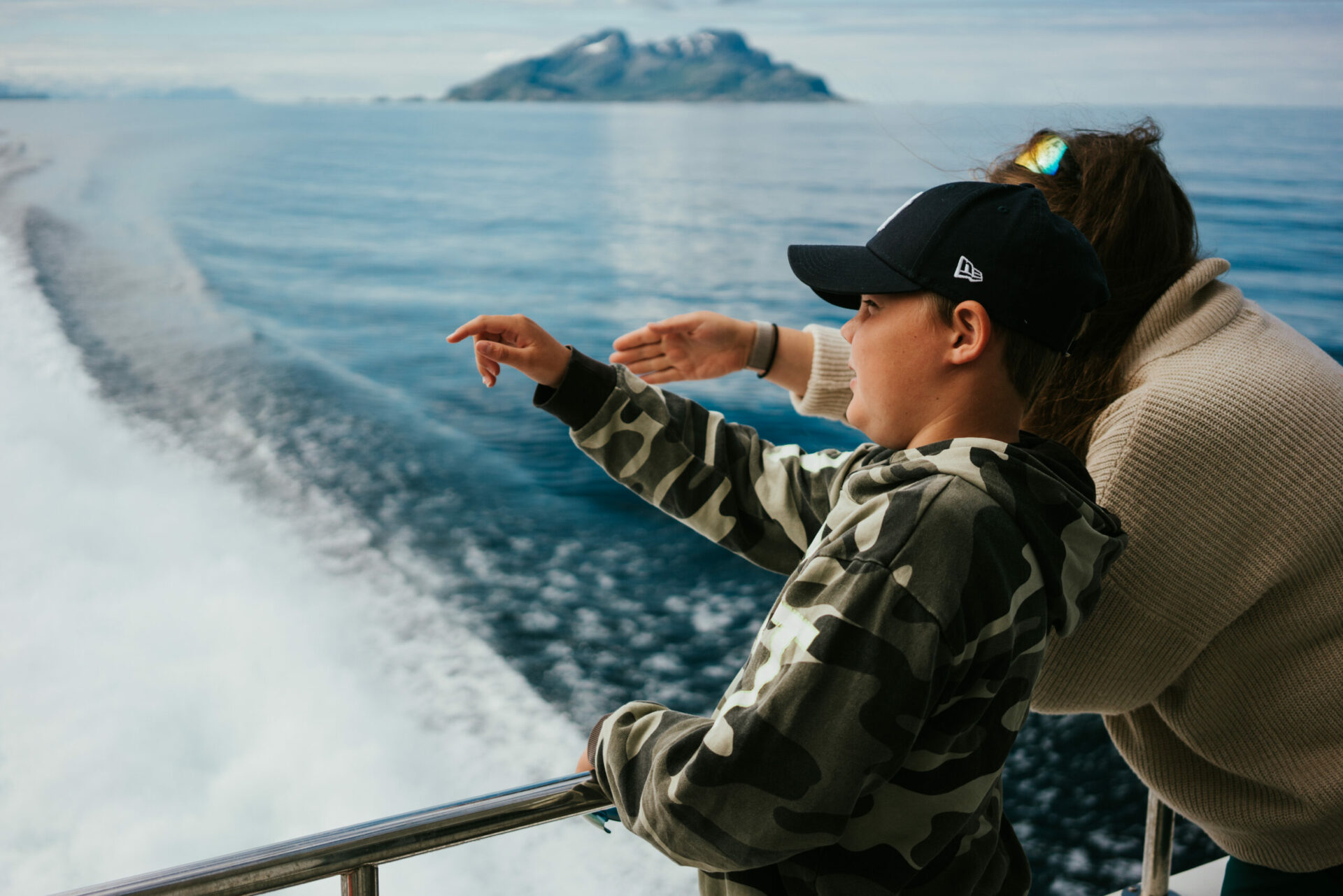 Tips for Island hopping
We have collected some tips and tricks to make island hopping as easy as possible.
How to get to the islands. Where to sleep and eat. We have also gathered some extra great accommodations – in case you get tired of tents and sleeping bags. Enjoy your trip!
1. Travel by express boat
Regardless of whether you go "island hopping" north or south of Bodø, when you board the express boat you will discover countless islands and mainland gems with white sandy beaches and lush green mountainsides.
These beautiful places include Hamarøy, Steigen, Kjerringøy, Landegode, Helligvær, Givær, Bliksvær, Kunna, Fleina, Fleinvær, Fugløya, Sandhornøy, Sørarnøy, Nordarnøy, Støtt, Rødøy, Grønøy and Bolga.

Don't be tempted to do as many of the locals do and take a nap during the crossing. Keep an eye out for puffins, white-tailed eagles and various whale species. You will quickly discover that there are many exciting things to see – in the water and on the land.
2. Pack a tent and provisions
Many of the islands don't have places to stay or eat, so it's wise to bring food, drink and a tent or hammock. Some islands have a grocery store and/or café but check in advance to avoid disappointment.

Norway's public access rights allow you to pitch your tent in uncultivated area, providing it's at least 150 m from the nearest inhabited house or cabin and you don't stay in the same place more than two nights.
Beyond that, the normal rules and good manners apply. Most islands are car-free but bringing a bike enables you to get around easily. Bikes and express boats are generally a good combination for island hopping in the north.
3. The quayside "brygge" resorts of Salten
Most of the islands you can reach by express boat have a "brygge" – a quayside resort providing accommodation, food and drink. If this is the first time you are island hopping in Salten, you may appreciate arriving to a made-up bed and food on the table! Most of these places offer boat rental so you can explore the archipelago on your own.
At Helnessund Brygge or Nordskot Brygge, you can rent and fishing gear and go deep-sea fishing or use the resort as a base for cycling in Steigen.
At Arnøy Brygge, you can stay in a fisherman's cottage (rorbu) and take part in activities such as fishing, canoeing, hiking and cycling, while at Bolga Brygge in Meløy you go deep-sea fishing or hike up to Bolgbørra. This natural hole in the mountain is like a cave with two entrances. The view from here is spectacular and on fine days you can see all the way to Lofotveggen (the Lofoten Wall) in the north.
4. Unique accommodations along the coast
Along the coast in Bodø and Salten you will find many very special accommodations. Not all of them are located out in the islands, but the coast on the mainland can often be just as beautiful.

Check out these gems:
Was this helpful?
Thank you for your feedback!
Thank you for your feedback!
We are reading all feedback, but unfortunately we can not respond.