Sørfold
Go fishing in idyllic fjord areas, go hiking in the wild and beautiful Rago National Park, or find peace by a quiet mountain lake. The landscape in Sørfold is rich in contrasts, with high alpine mountains and deep fjords.
Fjord, mountain, and outdoor life.
Sørfold has the status of a national park municipality and is a paradise for outdoor activities. Here, you can hike in beautiful rock and mountain landscapes, gaze out over mirror-like fjords, and climb spectacular mountain peaks.
Accommondation in Sørfold
Accommondations
Stay overnight and experience the beautiful national park municipality of Sørfold. Here, one can retreat and enjoy the peace and tranquility in beautiful natural surroundings.
Activities
Sørfold is a paradise for outdoor enthusiasts, with plenty of magnificent nature. But you can also find interesting cultural heritage sites and cozy local cafes.

Here are our suggestions for things to do:
Smallholding Kjelvik
The smallholding Kjelvik in Sørfold has roots that date back to the 18th century. In the past, the area was used as a grazing ground for the Sami people's reindeer, and over time, several Sami people settled in Kjelvik as tenant farmers.
The smallholding is somewhat sheltered and offers a view of the beautiful mountains and Leirfjorden. Here, you can experience a bygone era and wander among the old houses. With the exception of restoration work, the houses have been preserved as they were originally built and have remained untouched since the last resident passed away in 1967.
The smallholding is now owned by the Sørfold Local History Society and is a protected Sami cultural heritage site. The smallholding can be visited and is a living museum.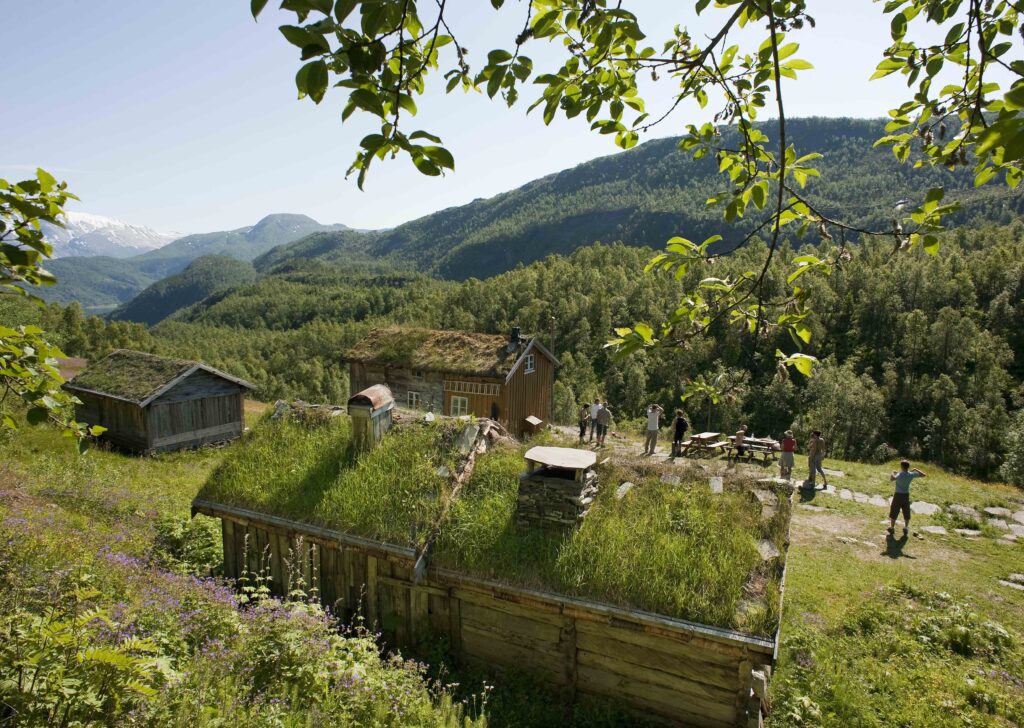 Experience Gjerdalen from the saddle of a bicycle.
Gjerdalen in Sørfold offers lush valleys, calm waters, roaring waterfalls, and raw granite. If you bike into the valley here, you can experience both cultural and wartime memorials, pick berries, and fish.

The bike ride up to Gjerdalen starts in Sørfold Municipality at Kobbvatnet camping. If you're coming here by car from Bodø city center, the drive takes about 1 hour and 45 minutes. From Kobbvatnet camping, you follow the road inland before turning left and heading up Gjerdalsveien. The road goes into Gjerdalen where you find yourself in a beautiful valley landscape with many great hiking and fishing opportunities.
Gjerdalsveien, which is about 17 km long, is a good gravel road that winds through the valley landscape before finally ending up in a smoothly polished mountain landscape. This is a great trip in majestic surroundings that is accessible from mid-summer.
Hiking suggestions in Sørfold
Hiking suggestions
Untouched wilderness, tranquil mountain lakes, idyllic fjords, and fantastic mountain landscapes. Sørfold has many popular hiking destinations and magnificent nature experiences for outdoor enthusiasts.
There are no less than two national parks in the municipality, Rago and Sjunkhatten, which are filled with contrasts. In Rago National Park, you will find quiet forests, roaring waterfalls, glaciers, and steep mountains. Sjunkhatten is the children's national park and it is packed with cultural history and signposted hiking trails.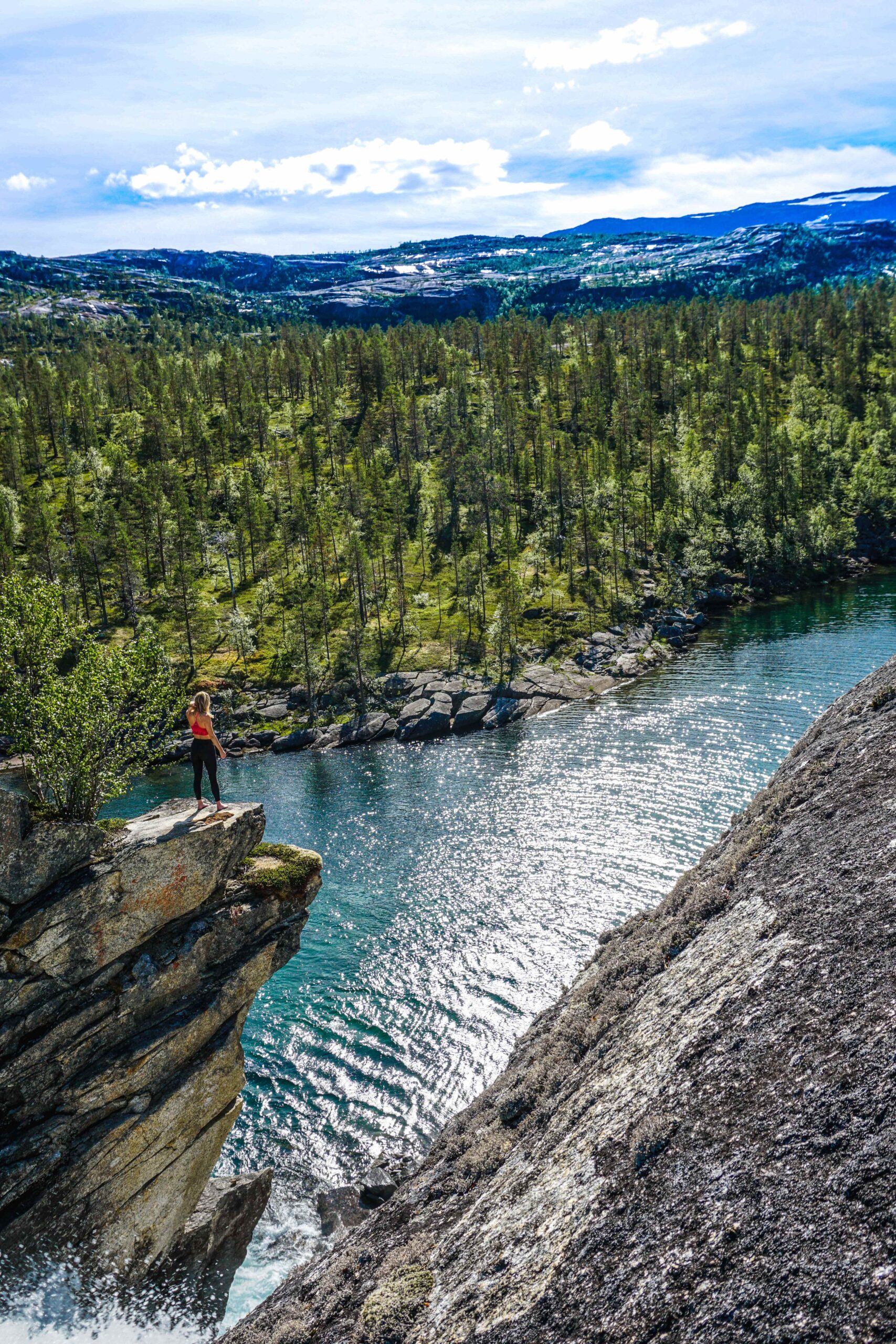 Get to know Rago nationalpark
Food and drinks in Sørfold
Food and drinks
At Bjørklund Gård, you have the opportunity to taste berries grown in Arctic conditions, with a lot of light and little heat.
Hege's food experiences can also offer fantastic flavors, locally sourced food and ingredients from local suppliers and self-grown produce..

Go for self-picking or book an outdoor cooking class.
At Bjørklund Farm, you have the opportunity to taste berries grown under arctic conditions with lots of light and little heat. Both strawberries and raspberries are grown, and you can stroll down the raspberry fields and put the berries directly into your mouth.
Hege's food experiences can also offer fantastic flavors, local ingredients, and self-grown produce. She likes to prepare meals outdoors, and you can enjoy a food experience with Hege either in the mountains or by the shore.
This is how you get to Sørfold.
The nearest Hurtigruten port and airport are in Bodø. From there, you can travel by train to Fauske, and further north on the E6 into Sørfold by bus or car. It is a 15-minute drive from Fauske to the municipal center of Straumen.
From the north, you can take a bus from Narvik and Sortland via Hamarøy.
Train
See route information on vy.no
Sørfold touristinformation
Utforsk flere reisemål i Salten
Was this helpful?
Thank you for your feedback!
Thank you for your feedback!
We are reading all feedback, but unfortunately we can not respond.