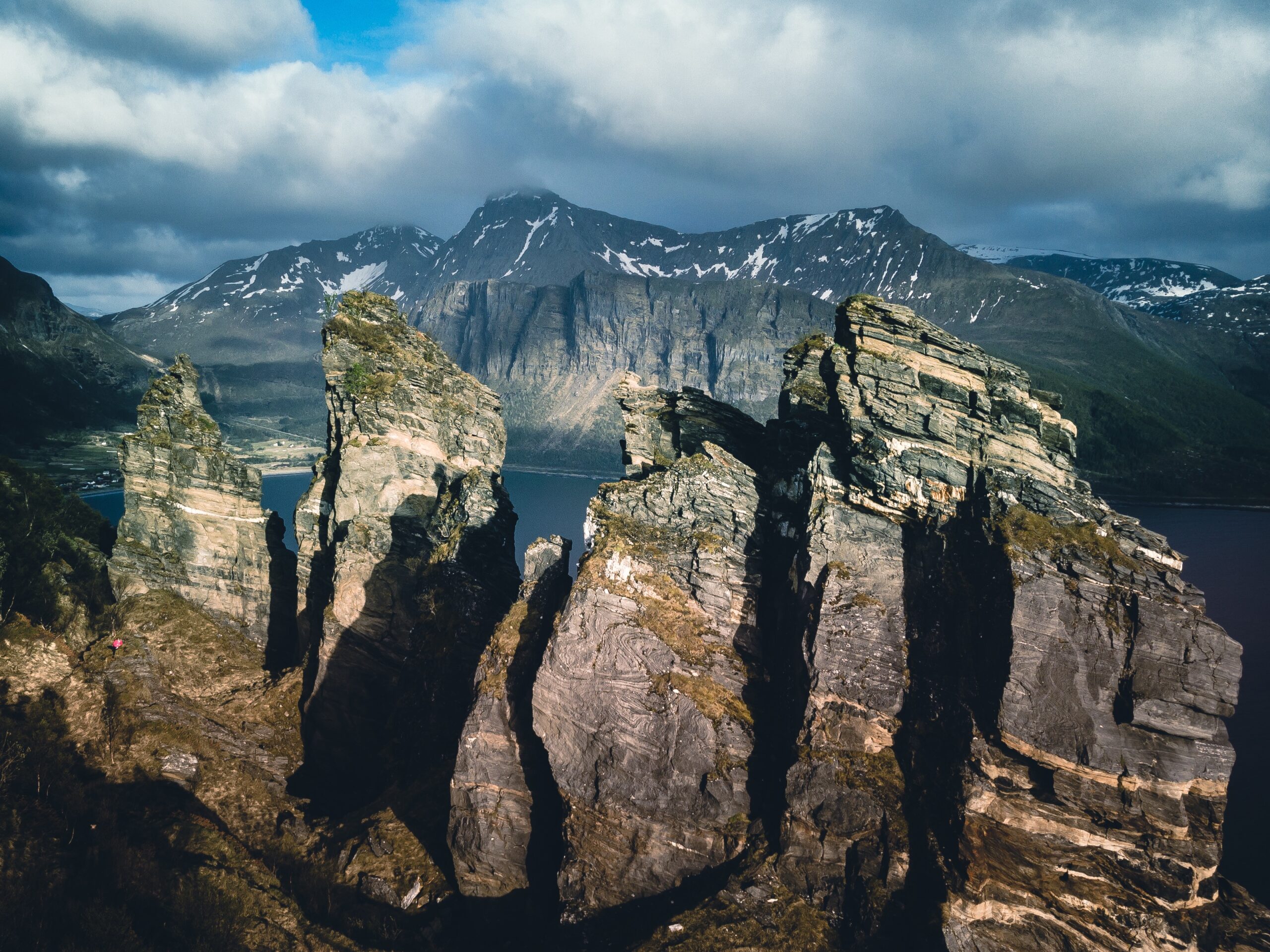 Finnesfjellet and Finnesgjuran
Finnesfjellet and Finnesgjuran
Finnesfjellet in Gildeskål is a popular hike because it offers a unique view of stunning mountain formations. From the summit, you can see sheer cliffs descending towards the sea, and on the way up, you'll capture an unforgettable vacation photo with the spectacular Finnesgjuran as your backdrop.
Hike Description
Finnesfjellet stands modestly at the edge of Finneset in Gildeskål, but once you make the journey to the top, modesty is the last thing you'll find. The view from here is exceptionally beautiful. And as if that wasn't enough, as you descend the slope just below the summit, you'll be greeted by a spectacular mountain formation known as Finnesgjuran. They are located at an elevation of approximately 250 meters and are awe-inspiring rock pinnacles that tower about 25 meters above the ground. "Gjuran" reveals its true magnificence up close and is a fantastic sight, especially during the evening sun or under the light of a full moon in winter. The ascent is steep, but the natural experiences more than compensate for the effort.

This hike is one of Saltens Friluftsråd's selected 55 forførende friluftsmål in the region.
Getting to Finnesfjellet
Take the turnoff from Fv. 17 to Storvik and park at the pier in Storvika. From there, walk along the road towards Finnesbygda (approximately 2 km) where the trail begins. You may be lucky to find parking along the road between Storvika and Finnes, but be sure to avoid private driveways. The parking lot at the start of the trail is private and should not be used.
Upon reaching Finnesbygda, you will find a large painted sign that says "Tursti Finnesfjellet" – this is where the hike begins. From Finnes, follow the markings up the steep slope. From Finnesgjura, continue following the trail for about 100-150 m to Brunen where there is an exercise box. Continue along a well-defined path towards the summit. Above the treeline, the trail may disappear. Walk northwards towards the edge and follow the ridge up to the summit of Finnesfjellet, at an elevation of 506 meters above sea level. Remember that it is steep on the other side. Be cautious of cornices if you hike early in spring or winter.
More Hiking Destinations and Activities in the Area
Was this helpful?
Thank you for your feedback!
Thank you for your feedback!
We are reading all feedback, but unfortunately we can not respond.