Saltdal
Saltdal is located just above the Arctic Circle, a beautiful part of Norway nestled between mountains and fjords. With Arctic conditions, experiences abound for those who want to fish in the Saltdal River, go hiking in the beautiful national parks, pedal through the cycling trails – or visit the region's many cultural treasures.
Nature and fishing
Saltdal offers dramatic nature, from high mountains to rivers and fjords. Here, you can experience beautiful landscapes, fishing, and local food in a pleasant and cozy atmosphere.
Saltdal is one of Norway's national park municipalities. You can visit the National Park Visitor Centre Nordland, which is an authorized visitor center for all five national parks in the Salten region.
«Saltdaling»
A "Saltdaling" is a local person who lives in or is from Saltdal.
The people of Saltdal are known to be extremely inclusive and hospitable. The spirit of volunteerism is strong, and everyone supports each other. They always serve traditional food or delicious baked goods and tell stories about industrial history and a rich Sami culture.
Coming to Saltdal and meeting the people can easily be described as "coming home." It feels safe and good, togetherness is important, and the food is made from scratch.
Accommondation in Saltdal
To truly experience what Saltdal has to offer, we recommend staying at least one night.
Saltdal offers several accommodation options.
Activities
The attractions and experiences are plenty for those who want to explore Saltdal, whether it's fishing in the Saltdal River, exploring the national parks, cycling through the bike trail, visiting cultural heritage sites or attractions.

In addition, you can visit the Nordland National Park Centre, which is the visitor center for all nine national parks in Nordland. Saltdal offers a wide range of experiences, whether you come with a partner, group of friends or family.
Some things you should also experience when visiting Saltdal:
We have selected five recommendations that you should add to your list of experiences to have in Saltdal.
1. Rognan and experiences near the town center
Rognan is the municipal center of Saltdal. Here you can find cafes, accommodations, and shops. Within walking distance (4 km) from the center of Rognan is Tangodden. Here, you can walk along the beach and through the "100-meter forest" before reaching the lighthouse. There are good opportunities for sea fishing and rich bird and plant life can be found here.
2. The docks of Rognan
Boat building in Saltdal is an ancient tradition that can be traced back many hundreds of years. The rich pine forests in the area provided top-quality materials for boat building. Boat building likely began with the first settlements around 1000 years ago. The concentrated community of boat builders in Rognan was probably the largest in Norway. In 1953, there were 22 boat building yards in Saltdal. In addition, many private individuals built smaller boats.
3. Nordland nastionalparkcentre og Adde-Zetterquist artgallery
Get to know the artists Per Adde and Kajsa Zetterquist and the national parks in Nordland, visit the nature exhibition where you can learn about wildlife and nature in the area, or shop at the local store.

The area around the center is called Storjord and offers two kilometers of universally designed hiking trails, the historic Arboretum, the mighty Kjemåfossen waterfall, the panoramic Solvågtinden mountain, swaying suspension bridges, the cultural site Roparneset with a Sami settlement, a climbing jungle, and a cozy courtyard.
4. Saltdalsriver – "The Queen of the north"
The beautiful river stretches from Saltfjellet towards Rognan. At Ankermoen in Storjord, the Junkerdalselva, coming down from Junkerdalen, and the Lønsdalselva, coming from Saltfjellet, meet. From here on, the river flows northward and is called Saltdalselva. Close to the river, there are many nice forest roads you can use, and you don't have to go far before you are in the wilderness.
5. Saltdal rural museum
The museum is built around the beautiful Skippergård located at the forefront of the museum. Jekt skipper Ellingsen and his family lived here from 1750 until the end of the 19th century. The rest of the courtyard consists of around twenty buildings from the period of 1600-1900.
Hiking suggestions in Saltdal

Saltdal is one of Norway's national park municipalities and has many popular hiking destinations for outdoor enthusiasts. Experience the fantastic Ingeborgfossen or take a hike to the majestic Solvågtinden at 1559 meters above sea level.
Food and drinks
Saltdal offers several food experiences, and traditional food is strong in the municipality. There are good opportunities to enjoy Møsbrømlefse and other baked goods, as well as genuine Norwegian traditional food.
Møsbrømlefse
Møsbrømlefse is a traditional dish from the Salten region, consisting of lefse (a type of Norwegian flatbread) and møsbrøm, which is mainly made of brown cheese and milk. Saltdal is said to be the birthplace of Møsbrømlefse. Here you can try what has been named the world's best Møsbrømlefse, and the Møsbrømlefse festival is held here annually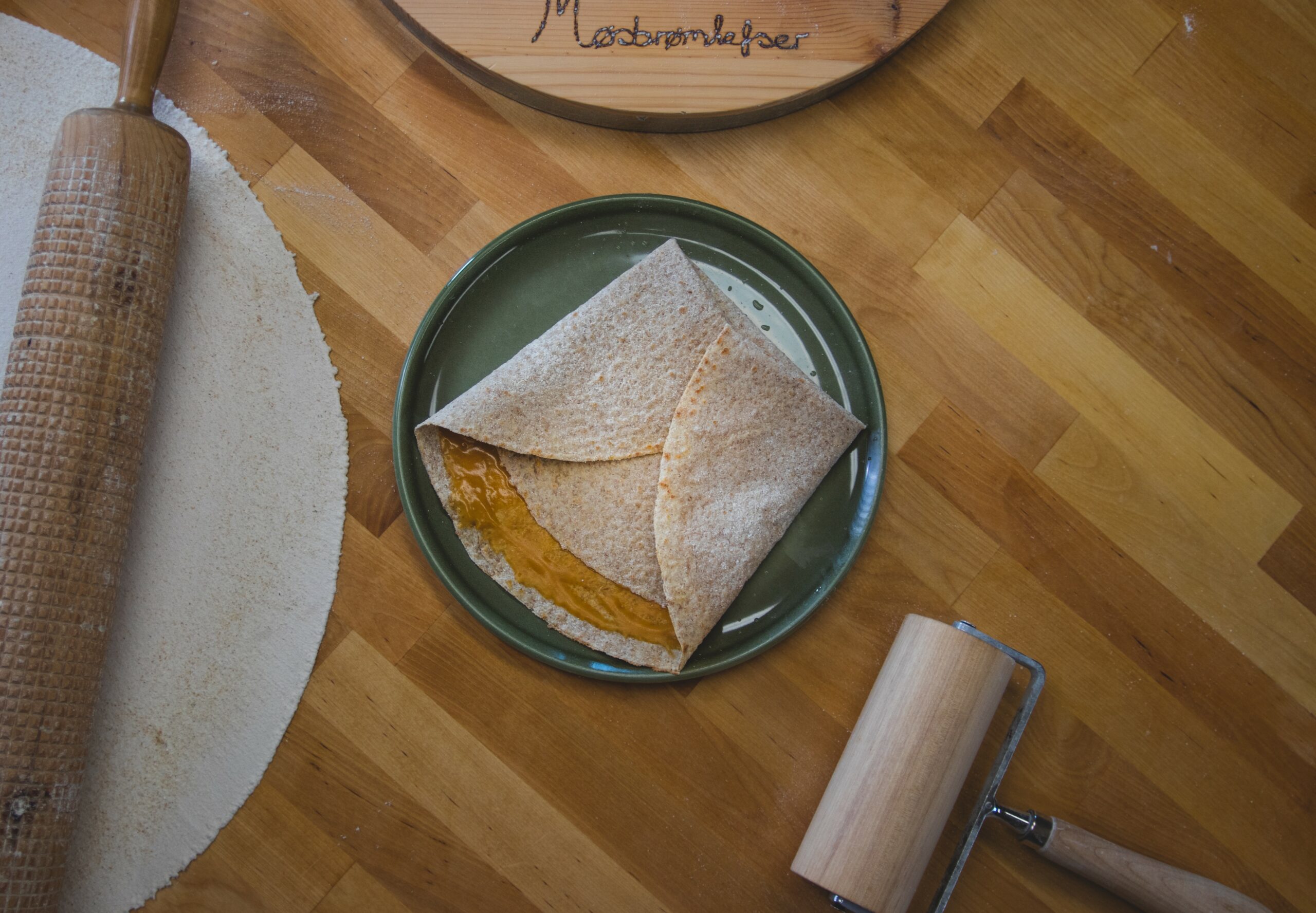 How to make Møsbrømlefse
How to get to Saltdal
Saltdal is located about 80 kilometers from Bodø. You can get here by car, train or bus.
From Bodø, drive on Rv 80 towards Fauske and continue on E6 to Saltdal. If you are traveling along the Coastal Route (Kystriksveien), you can turn onto Rv 17 and follow Rv 812 until you reach E6. If you are coming from Sweden, drive on Rv 77 past Graddis and Junkerdal until you reach the intersection at Storjord, where you will come out on E6.
There are good train schedules and 3 train stops through Saltdal.
Distance to:
Bodø airport: 89 km
Fauske: 33 km
Mo i Rana: 150 km
Arjeplog (Sverige): 199 km
Saltdal touristinformation
Explore more destinations in Salten
Was this helpful?
Thank you for your feedback!
Thank you for your feedback!
We are reading all feedback, but unfortunately we can not respond.