Road trip along the northern part of the Coastal Route:Bodø, Gildeskål and Meløy
The Coastal Highway is characterized by beautiful coastal landscapes, picturesque fishing villages,
and unique nature experiences. Here are some of the highlights of the trip:.
Take a drive along parts of the Coastal Highway to or from Bodø – the drive itself will take the breath away from most. It is not without reason that it is often said that Nordland has the world's most beautiful coast. This stretch is also part of the national tourist route "Helgelandskysten". You can admire the contrasts between impressive architecture and historic coastal culture, explore the diverse archipelago and discover exciting rock formations. You will have sea views the whole way north and the Midnight Sun as a travelling companion.
Where am I traveling, and where do I stop?
This trip starts in Bodø. If you are driving from the south, you can read the route from bottom to top, starting from the north in Helgeland and ending in Bodø.
Start: Bodø
Downtown Bodø is a natural starting point for various experiences and excursions in Salten and other parts of Nordland. The city is a transport hub for aircraft, trains, express boats, ferries, Hurtigruten, buses and cars. Bodø is characterised by a vibrant cultural life, restaurants, cafés, shopping, pubs, bars and sky bars, combined with magnificent nature-based experiences in the immediate vicinity.
Saltstraumen – The world's strongest tidal current
Your first stop is at Saltstraumen, just 33 km from downtown Bodø. This spectacular natural phenomenon thrills visitors from near and far. Every sixth hour, 400 million m³ of water forces its way through a narrow strait at speeds of up to 20 knots, forming enormous whirlpools in the water.

However – or consequently – Saltstraumen has a wonderful marine life with abundant stocks of various fish species, shellfish, crustaceans, sea anemones, coral reefs and much more.
Saltstraumen is like a natural fun park. You can go diving, snorkelling, fishing or rafting by RIB in the powerful masses of water.
Saltstraumen is at its strongest twice a day but, as these times vary from day to day, we recommend checking the Saltstraumen tide table and planning you trip accordingly.
If you want to spend longer at Saltstraumen, you will find a café, camping ground and hotel here. You can also visit the Magic Saltstraumen experience centre to learn more about this natural phenomenon, go on an historic guided walk with Saltstraumen Stories or visit Tuvsjyen, the site of some of Norway's first Stone Age settlements.
Find your Saltstraumen-adventure
Sandhornøy and Langsanden Beach
Continue driving about half an hour and then make a side trip to the island of Sandhornøya, where you will find the beautiful beach Langsanden (translated literally as "the long sand"). This 2 km long sandy beach is perhaps one of Norway's finest. If you a looking for a nice place to camp, then this is it. Facilities here include a car park and a modern service building with running water, a toilet and shower.
Følvika Northern Retreat
If you want more comfortable accommodation but still want to be close to nature, you can stay in a glass dome at Følvika Northern Retreat. It's just a short drive from here to the ferry landing at Horsdal, where you can catch a ferry out to the Arnøy islands.

On the way to Horsdal, culture enthusiasts can stop at the Blix farmyard (the childhood home of poet, politician and theologian Elias Blix) and walk on the Blix path to the Blix monument.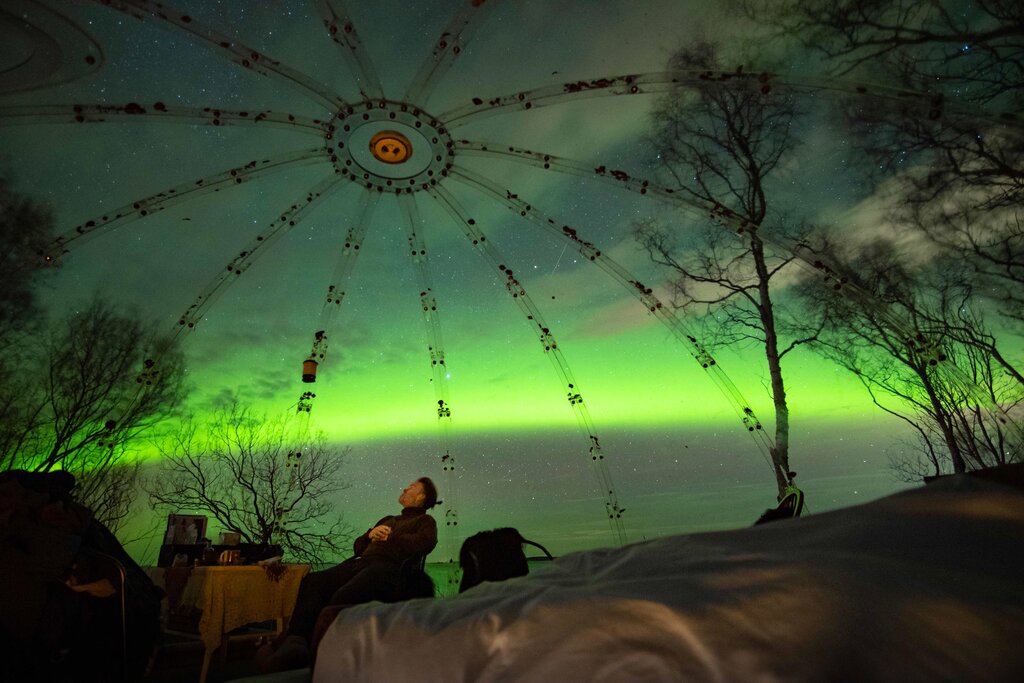 Sandhornet
Before boarding the ferry to the Arnøy islands, we recommend hiking up Sandhornet. The hiking route starts at the ferry landing. This is a challenging hike but the view from the summit make it worthwhile – turquoise sea and small islands as far as the eye can see!
Island Experiences in Gildeskål and Meløy
If you take the ferry from Horsdal to Søarrnøy, you will arrive at one of the many wonderful islands along the coast in Salten. From here you can jump on the speedboat and visit several islands in the area.

The islands in Gildeskål and Meløy are also easily accessible by express boat from other places on the mainland. Simply catch the ferry back and continue your road trip south.
Arnøyene: Sørarnøy & Nordarnøy
Go ashore on Sørarnøy and experience the island community before driving to Nordarnøy (these two islands are connected by a small bridge). You can stop at Arnøy Brygge, which has nice seaside apartments, a restaurant and fishing adventures. You can also rent a boat here and explore the archipelago in Salten on your own – island hopping to Fleinvær, Støtt and Bolga. Allow plenty of time and plan for some overnight stays during your boat trip.
If you can't drive a boat yourself, don't despair. Aasgardr Services on Sørarnøy offers boat safaris to the beautiful island of Fugløya and island-hopping trips on request.
The Arctic Hideaway at the island of Fleinvær
This is the place to relax and enjoy the peace and tranquillity in combination with world famous architecture.
Bolga brygge
Offers accommodation in seaside holiday houses, deep-sea fishing and climbing on the mountain Bolgfjellet, which rises straight up from the sea. This resort has a restaurant as well as accommodation.
Inndyr and Gildeskål Church Site
When you return to the mainland by ferry from the Arnøy islands, you can get off at Sund instead of Horsdal (on Sandhornøy), and drive to Inndyr (You can also drive here from the main road if you chose not to go to Sandhornøy and the Arnøy islands).
When you get to Inndyr, you can go to the grocery store to stock up on snacks for the road trip. While you are in the area, you should visit the Gildeskål Church Site dating from the 12th century. You can go on a guided tour of this historic gem or check out the locally produced art at the vicarage gallery.
When you return to route no. 17 and continue southwards, there is a little gem hidden not far from the road. Den glømda staden (The Hidden Town) is well worth visiting. You can check out the art project and stay overnight in the unique Thai House. Please note that this small building is open to all visitors, but you need to bring your own gear (sleeping bag and pillow, etc.).
Finnesfjellet
Do you enjoy combining your holiday with physical activity and nice photos for your Instagram feed? If so, we recommend hiking up the mountain Finnesfjellet and taking a photo at the iconic Finnesjuran rock formations on the way up. The view from the top is impeccable. When you have hiked down from the mountain, you can take a refreshing dip at the beautiful beach, Storvikstranda. Facilities here include a beach volleyball court, public toilet and grocery store..
FOGG Gildeskål
On the way to Meløy, we recommend a stop to visit the design sisters Gøril and Frøydis, the founders of Fogg Gildeskål – a local clothing brand specialising in high-end woollen hats, scarves and sweaters. The garments, which are inspired by the way discoverers and seafarers dressed, are designed for modern adventurers who don't compromise when it comes to style and ethics. Clothes you buy here will also come in handy on the rest of your holiday.
Ureddplassen – The world's most beautiful outdoor toilet?


If you need a toilet break along the way, you can stop at Ureddplassen, which has several times been referred to as the world's most beautiful public toilet. It's also a wonderful photo stop with views of the fjord and out towards the open sea, the island of Fugløya, Lofotveggen (The Lofoten Wall) and the horizon.
Ureddplassen is also a memorial. A monument has been erected here in memory of those who lost their lives when the submarine HNoMS Uredd was sunk after hitting a German minefield in the Fugløyfjord during the Second World War
The Coastal Town of Ørnes
Ørnes is the municipal administrative centre in Meløy and a hub for boat traffic along the coast including Hurtigruten, express boats og ferries. It is often claimed that the approach to Ørnes is the most beautiful of all Hurtigruten's ports of call along the coast. From Ørnes, you can take the ferry or express boat straight across to Støtt and Bolga. The express boat also calls at Rødøy and Sørarnøy.
If you travel by express boat, remember to book your place in advance.
In Ørnes, you will also find a small range of shops, places to eat, places to stay, a pharmacy and a branch of the Norwegian Wine Monopoly.
Was this helpful?
Thank you for your feedback!
Thank you for your feedback!
We are reading all feedback, but unfortunately we can not respond.