1. Go to one of the city's best restaurants
Ohma, Bjørk, Lystpå and Bølgen & moi, we can mention many good restaurants, and they are all in a class of their own. Try Ohma's dry-fried beef strips or sushi, Bjørk's delicious Italian pizza, Larsen's fiesta menu or Lystpå's grilled stockfish. Yes, grilled stockfish is actually incredibly good.
Larsen and Lystpå also offer an extremely good wine list that you rarely see in Norway, also listed at Star Wine List.
2. Take the trip up to Keiservarden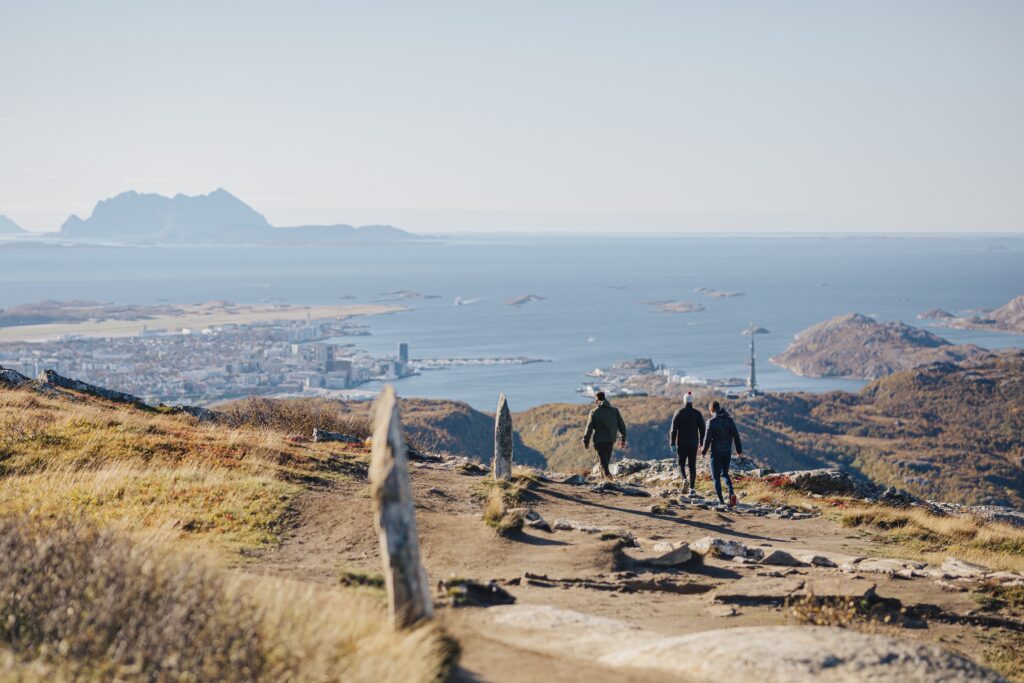 It can be nice to take a trip away from the city center and up to a mountain top to breathe. Fortunately, you don't have to go far before you reach one of the finest views, Keiservarden. To get up to Keiservarden, you can start from Maskinisten. The trip up takes about 30 minutes, and rewards you with a fantastic view. Plan your trip here in the evening and cross your fingers for the Northern Lights. You can either walk from the center of Bodø to Maskinisten, or take a bus to the bus stop with the same name.
3. Restaurants and bars with the best view
If you are in a festive mood, a trip out into the city is a good idea. Feel free to start the evening with good drinks at the sky bars Top 13 or Roast, these places have by far the best views of the city.
If you are in the mood for louder music and dancing, we recommend a trip to Hundholmen or Dama Di. The sports bar is the place if you want to gather for a football match.
4. Go shopping
Visit Northern Norway's largest shopping center City Nord, or the charming shopping center Koch in the center of Bodø. In the center you also find many local shops with unique products. Check out some of these:
5. Events in Stormen Concert Hall
Every Friday there is lunch in Stormen concert hall for 50 kr including coffee. Usually it's the Arctic Philharmonic that has a concert, with occasional appearances by someone else. Stormen has many exciting events all year round, here everyone can find something interesting. Go to a concert with Kristian Kristiansen, see Tore Sagen do stand-up, or follow one of the National Theatre's performances. Also visit Stormen's gorgeous library, a library in a class of its own.

6. Relax and wellness
Between everything you have to do on your holiday trip, it's nice to get complete relaxation at Spektrum wellness. Here you can, among other things, choose between a total of six different and relaxing saunas, indoor and outdoor pools, ice caves and foot baths. You can also order more wellness treatments and massages from 7.himmel, who are based in the facility. And if you're feeling energetic, you can head down to Nordlandsbadet and dive into the pool.
7. Games and fun
Royal Bowling runs disco bowling on weekends and sets the mood for the evening. Challenge the group of friends to a few rounds of bowling, try billiards or compete to see who manages to get the most points in shuffleboard. At Bodø action hall you can continue the competition with laser tag or strengthen group cohesion with an escape room, and at Newton flight academy you can try a flight simulator. If you want to play outdoors, we can strongly recommend a round of golf under the midnight sun – absolutely magical!
Was this helpful?
Thank you for your feedback!
Thank you for your feedback!
We are reading all feedback, but unfortunately we can not respond.