1. Bratten Activity Park
Just outside Bodø city center, you can find a great place for the little ones to enjoy. They can drive electric Pelle cars at the mini driving school, run across the large lawn, and climb on the playground. There are also outdoor exercise equipment for teenagers and adults. If you get tired or cold, you can take a break under the shelter, light a fire, and enjoy grilled sausages with a view of Landegode.
2. Saltstraumen – the world's strongest maelstrom
This phenomenon is equally spectacular whether you are 7 years old or 70 years old. When the tide turns, enormous water masses pass through a narrow channel, creating intense whirlpools. Saltstraumen can be observed from the shore or experienced on a RIB boat on the water. Either way, you can expect a spectacular experience.
3. Dog Sledding
When the snow falls in late autumn, dog sledding is a fantastic experience for both young and old. Nordland Turselskap offers day trips in Bodø, and on Beiarfjellet (where the snow comes earlier), you can go dog sledding with Saltenguidene. Continue your journey towards Beiarn and add an overnight stay for more exciting experiences.
4. Parkes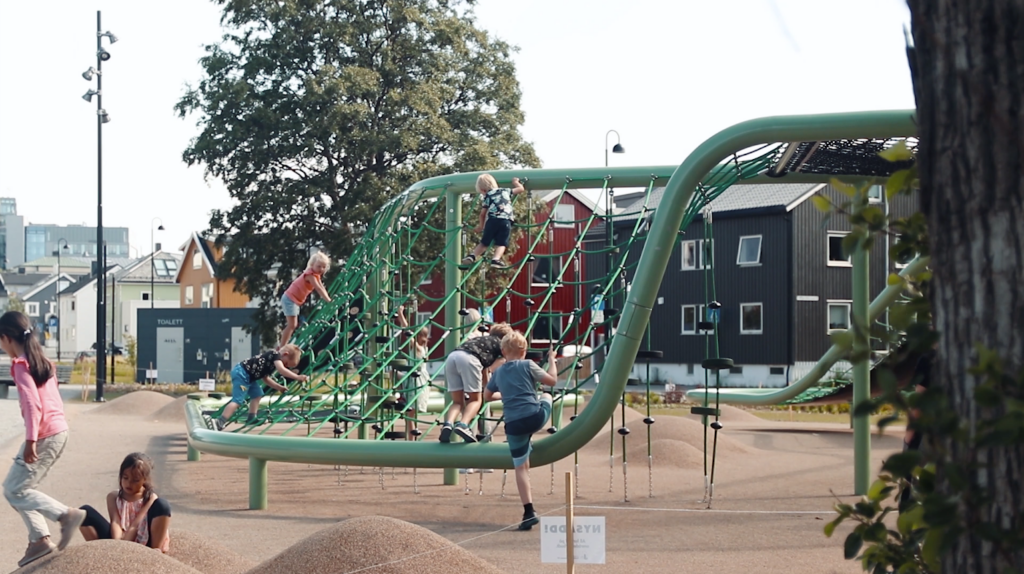 Bodø city center has several outdoor parks for the little ones. The brand new Solparken and the playground at Torget are very popular among the locals. From here, it's a short distance to cafes with local coffee and the city's best cinnamon buns. Rensåsparken has a skate park and frisbee golf, and at Leif Jenssons plass in Vestbyen, you'll find one of the best playgrounds. Here, you can have fun and let loose! In the fall of 2020, a new playground and activity area opened at Kvartal 99 with many new and exciting play equipment!
Bodøsjøen is also a fantastic outdoor area for those who want to barbecue, feed ducks, and play by the shore. Here, you will also find the Jektefartsmuseet, which was newly built in 2019, with a fantastic exhibition and café.
5. Nordlandsbadet – Water park
The children call it "Badeland" (Water Park). And it truly is a whole land for water enthusiasts – with slides, diving boards, wave pool, and current tunnel. At Nordlandsbadet, you can spend several hours, especially on rainy autumn days.
6. Bodø Action Hall
Here, you get 800 square meters of action and fun! Try lasertag, virtual reality experiences, escaperooms, or arcade games. Bodø Action Hall is conveniently located in the center of Bodø.
7. Mørkvedhallen Climbing Center
This is a big favorite among children in Bodø. And not without reason. This is one of the country's largest and newest climbing facilities. At Mørkvedhallen Climbing Center, you can try bouldering, rope climbing, automatic lowering systems, or play in the children's room.
8. The National Norwegian Aviation Museum and Newton Flight Academy
At the Norwegian Aviation Museum, you can experience Norway's history through civil and military aviation. It's a huge and active museum filled with large aircraft, unique inventions, old artifacts, and fascinating stories. The museum offers the Bædi & Børdi app, a fun digital travel guide that guides children through the museum. Older kids can search for yellow boxes and solve tasks. If you're looking for more action afterwards, the family can try the flight simulators at the Newton Flight Academy just outside the museum. You can, for example, try the approach to Bodø.
9. Stormen Library and concert hall
The cultural quarter Stormen is located in the heart of Bodø.

Stormen library has a great children's section and a café where you can recharge your energy. It's the perfect place to relax with a good book or experience other cultural activities. Award-winning architecture and rich collections provide a unique library experience. There are regular events and activities, so it's not your ordinary "quiet" library.

Stormen concert hall has many performances, including shows for children. The concert hall, with a capacity of 900 seats, has already gained a reputation as one of the best halls for acoustic music performances in the world. Check out the program when you visit the city – we highly recommend attending a show at the new concert hall!
10. Royal Bowling
In the middle of Bodø city center, you will find Royal Bowling, where both young and old can have fun with bowling, billiards, snooker, shuffleboard, air hockey, and arcade games.
11. Child-friendly Restaurants
Bodø has several child-friendly eateries, but if we ask the kids themselves, they often recommend classics like Peppes Pizza and Egon. Here you can find both delicious kids' menus and playrooms, which are always a hit.
Was this helpful?
Thank you for your feedback!
Thank you for your feedback!
We are reading all feedback, but unfortunately we can not respond.