The most beautiful beaches in Bodø & Salten
You don't have to travel to the caribbean to enjoy life on white sandy beaches, overlooking the turquoise ocean.
In Bodø & Salten there are chalk-white beaches all along the coast.
Search for your own hidden gem where you can relax in the summer day and night.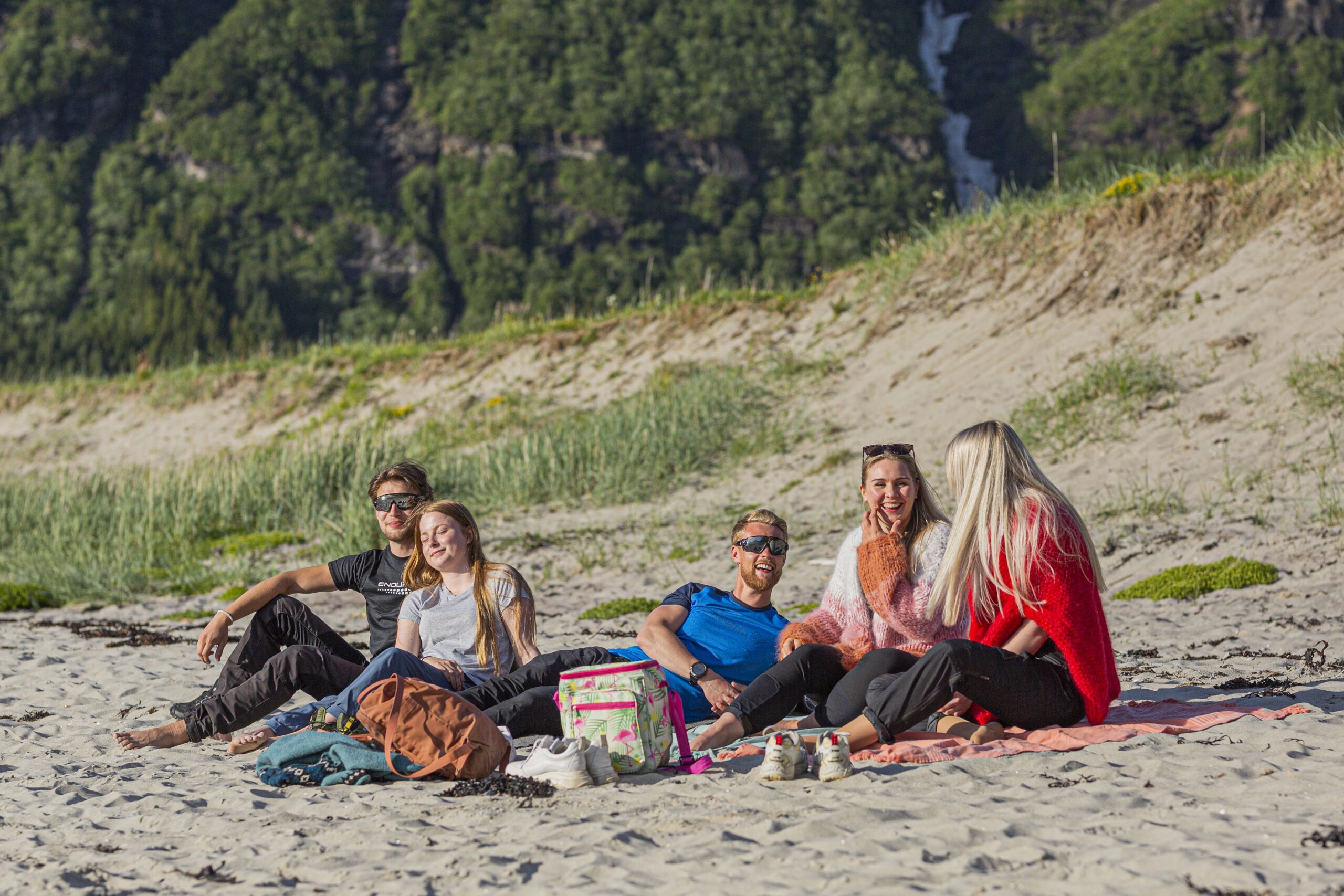 1. Hovdsundet, Bodø
The beach in Hovdsundet is a paradise. It's a secluded double beach where the water flows in from both sides – spectacular and well suited to be photographed.
It's a relatively long walk, but worth it when you arrive. To get there you follow the map directions to Auvika beach, from there you walk by the shore in a more diverse and rugged terrain until you get there. You can also get there by boat, like many of the locals does.
2. Langsanden, Gildeskål
Langsanden is a chalk-white beach, 2 km long and 300 meters wide. It is located in beautiful Sandhornøy. The drive to Langsanden is an adventure itself, and let you enjoy some of the most eye-catching nature views that Salten and Norway has to offer.
The beach is a popular place for sunbathing and baths on the summer days, and there is enough space for everyone. Do you prefer a longer stay at Langsanden you can find good spots for camping in the grass along the beach. There you also can find service facilities and toilets.
3. Mjelle, Bodø
«Mjelle, its different from everything else. You must have been there, to understand it». The artist from Bodø, Terje Nilsen have immortalized this hidden gem with his words in the song called «Mjelle». The locals in Bodø often hikes to Mjelle because of their strong connection to this place.
The beach is one of the most famous in Norway, thanks to the artist. It is also one of the most beautiful beaches in the country, although the Bodø area itself and Northern Norway have countless beaches in the competition.
Mjelle is Northern Norway's most romantic place to enjoy the midnight sun, with a view of Landegode and the Lofoten mountains. Bring your friends and the guitar and play a few well-chosen songs. The beach often has a red and purple color, not only because of the midnight sun, but thanks to the mineral called Garnet. If you are lucky, you can find the mineral in gemstone-quality, and use it as a stone on a necklace. On the southside of the beach, you'll find grassland well suited for camping in tents.
4. Bøsanden, Steigen
«This reminds me of Denmark! Only a bit colder in the water». An often-heard comment when visiting at Bøsanden. A white beach, over 800 meters long, surrounded by grasslands and sand dunes it reminds you most of the more southerly beaches. Bøsanden is so much more.
Enclosed by magnificent and fabled mountains, and the eye-cathing view of the Lofoten "wall", with the midnight sun hanging over it. Sand between your toes, can you wish for something better?
5. Ausvika, Bodø
Ausvika is a south-facing beach located in a small bay called Storausa, by the Landegode fjord. The place is nicely organized with benches, tables and seating. It is a child friendly area with shallow water. Ausvika is the perfect beach for trips after work and on evenings with less time for longer hikes.

> Tour description to Ausvika
6. Storvika, Gildeskål
The long, wide beach called Storvika has a soft sandy bottom that stretches out into the sea, creating the perfect conditions for bathing. The beach is easily accessible from the road (Fv17). Storvika is often visited for picnic and by camping vans. There is a campsite near by, with enough space to drop in with your caravan, car or tents for the night. By the rest area you can find a grocery store and a beach volley court. A beach day in Storvika is perfect to combine with a hike to the nearby mountain called Finneskua, with the iconic, scenic cliffs called Finnesjuran, which must be experienced close eye.

> Tour description to Finneskua og Finnesjuran
7. Geitvågen, Bodø
Geitvågen is a summer classic in Bodø, and a meetingpoint for both the youngest and the older. There is a dammed pool with seawater perfect to take a swim in. Geitvågen campsite is also located here, and that means you can stay in the area over night and have easy access to ice-cream in the local sales booth.
8. Brennviksanden, Steigen
Brennviksanden has been named one of Norway's most beautiful beaches, and you can easily understand why. It is 2 km long and surrounded by the spectacular mountains called Brennvikfjellene and Kråktinden, reaching over 1000 meters above sea level.
Brennviksanden is also a nature reserve, with the shifting sand dunes and colorful flowers. On both sides of the beach lies two shelter lean-to cabins, nice goals for hikes all year around.
9. Auvika, Bodø
The name can easily be confused with Ausvika, but Auvika is a separate place not too far from Mulstand and Mjelle. This is a big beach with smooth sand and a grassland well suited for tents – with dense vegetation in the back.
A beautiful area where you have a good chance of enjoying the beach without too many people around. If you are heading for a salty bath, the best sand bottom is at the east side of the beach (The side you often arrive).
The mountain in the north makes the evening sun a bit poor here, so if you are looking for the midnight sun, you'd rather go to Mjelle.
Was this helpful?
Thank you for your feedback!
Thank you for your feedback!
We are reading all feedback, but unfortunately we can not respond.